Ecoflow Delta Pro + 400W Rigid Solar Panels
Ecoflow Delta Pro + 400W Rigid Solar Panels
***Please note- Each pack of 400W Rigid Solar panels is a 2 pack meaning that you get (2) 400W panels in one order. 2 Orders would be (4) Panels. Each Panel is 400W meaning each order is 800W***
Highlights:
Delta Pro
Secure your power supply with an EcoFlow DELTA Pro solar generator. Plug in 400W Rigid Solar Panels and get up to 1600W input to charge from anywhere in as fast as 1.5 hours.

The Portable & Expandable Home Battery DELTA Pro supports a 3.6kWh capacity that can be expanded to 25kWh. The kicker? You can integrate it directly with your home circuits via the Smart Home Panel. Ideal for home backup.

Rapid Dual Charging X-Stream tech means that DELTA Pro charges 7 times faster than the competition. That's 0–80% in just 50 minutes and 0-100% in 80 minutes with AC input. Plug in EcoFlow solar panels and charge in as fast as 2.5 hours with 4 x 400W rigid solar panels.
400W Rigid Solar Panels
Fast Charging With a high conversion efficiency rate of up to 23%, the 400W panel charges your LFP batteries faster than similar-sized solar panels. 

Weatherproof & Durable The rigid panel balances design with robust materials allowing the panel to weather any storm while offering the same excellent performance and aesthetics for years. 

Off & On-grid Solution This high-wattage panel works for both on-grid and off-grid solar-powered setups, storing energy for outages, reducing power bills, or powering an off-grid home. 

Universally Compatible The 400W solar panel includes a 300mm charging cable that gives you plenty of space, maximizing solar input. With an all-inclusive solar connector, the 400W rigid panel works with other 3rd party solar systems and power stations.
Description:
Power for any situation.
From tailgate power to extreme blackouts that last for days on end, DELTA Pro delivers up to 25kWh of capacity. With that, you're covered for any situation. That's the industry gold standard.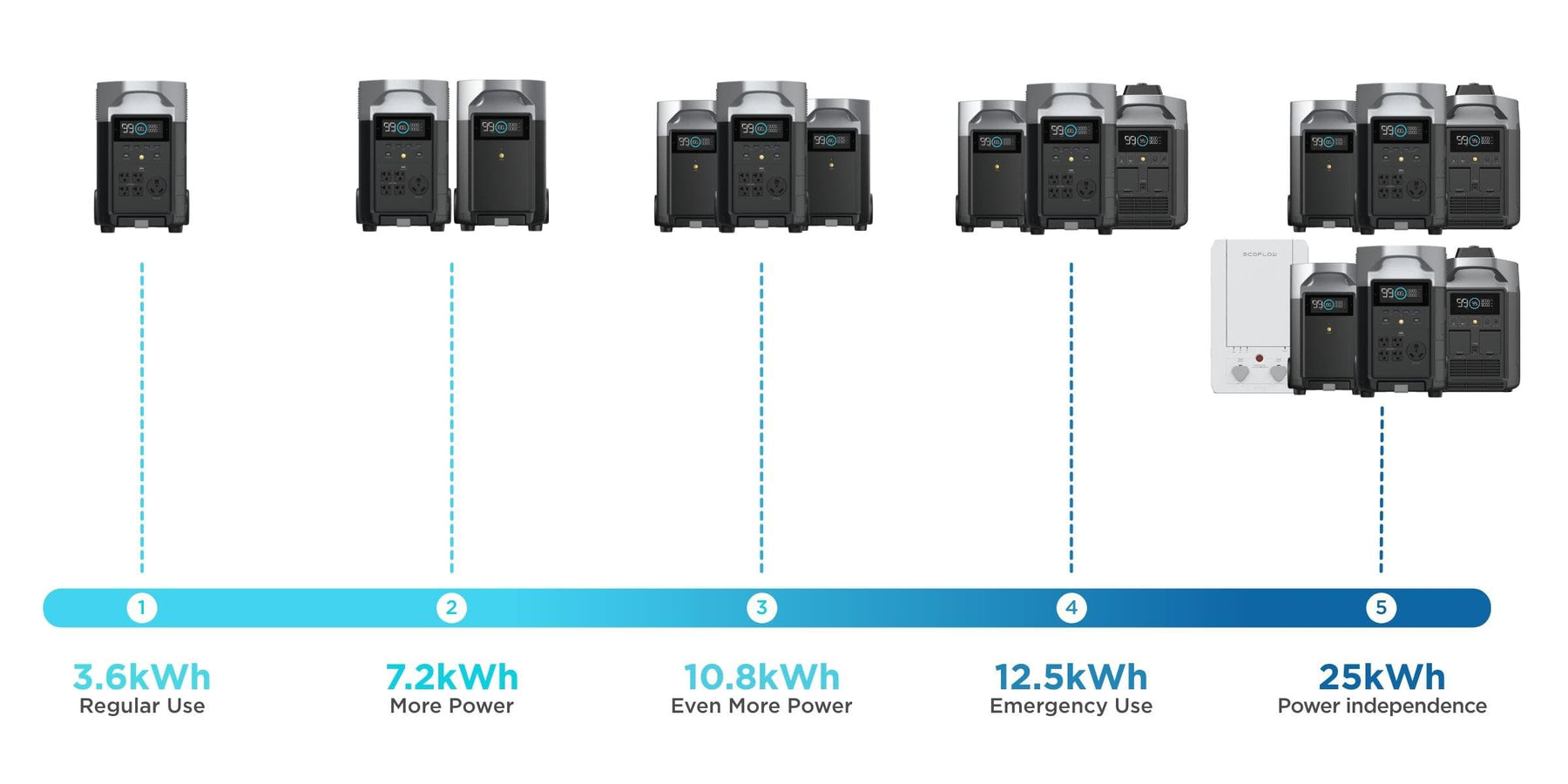 All the AC output you'll need.
A single DELTA Pro unit packs a 3600W AC output, which can be expanded up to 4500W with X-Boost technology. Power 99.99% heavy-duty devices at home, outdoors, or at work. You can even pair two units together to achieve 7200W.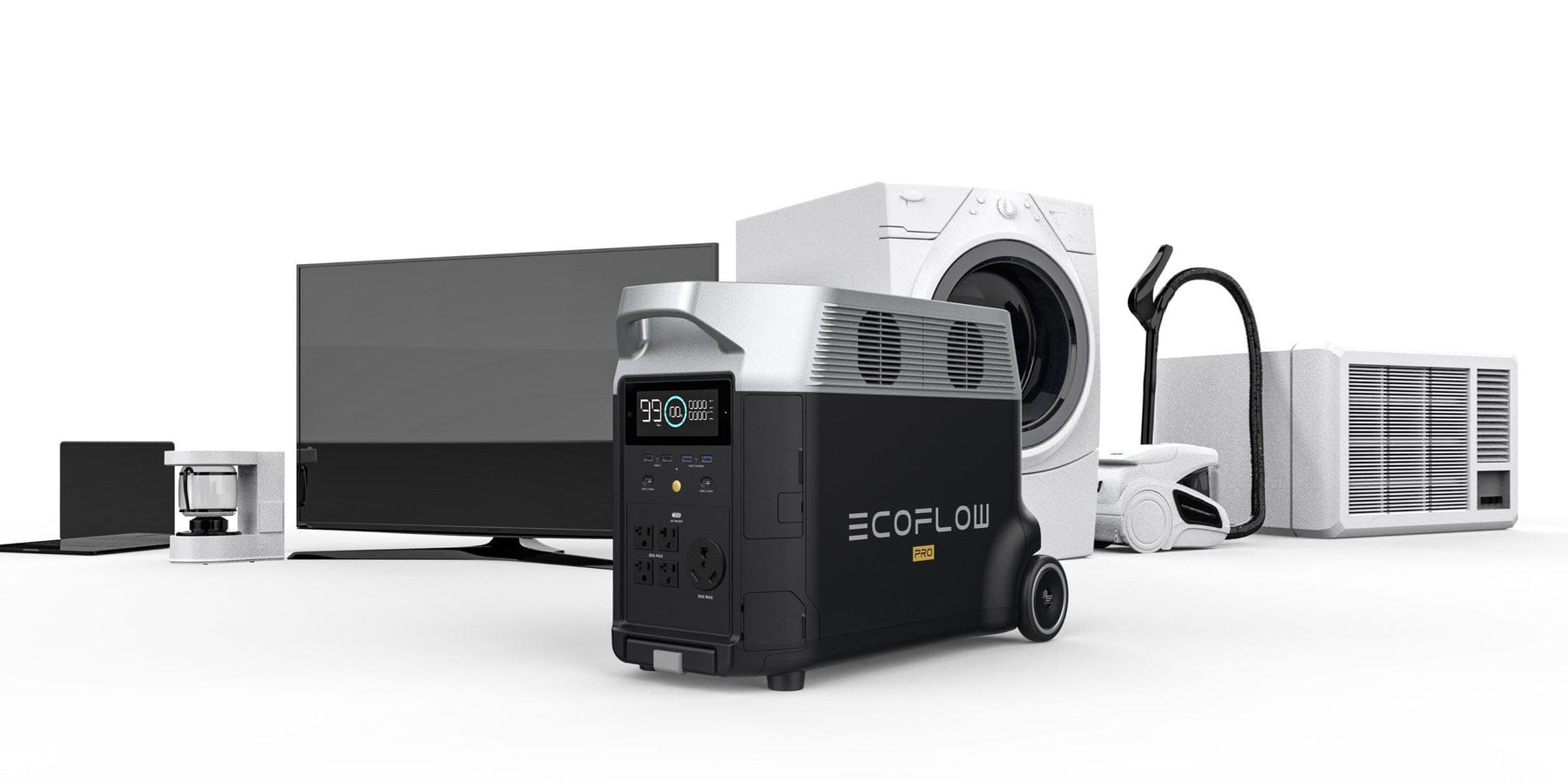 The world's fastest charging portable power station.
MultiCharge delivers record-breaking speeds at 6500W. To reach 6500W, you can opt for these charging methods.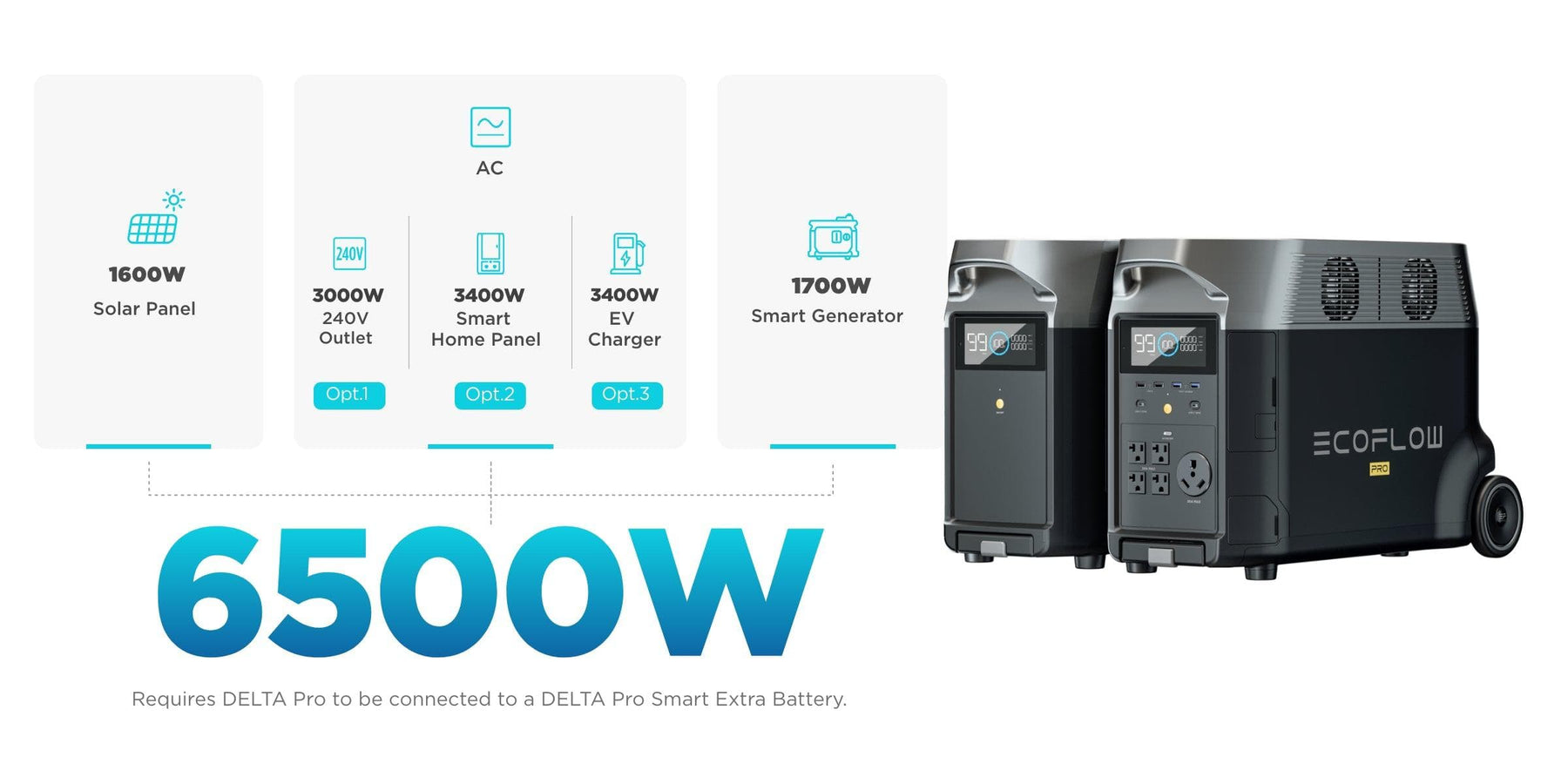 Fully charge in 1.8 hours.
EcoFlow's X-Stream charging technology isn't just fast, it's safe too. The battery management system ensures safety and longevity while you fully charge DELTA Pro from a standard AC wall outlet in 1.8 hours*.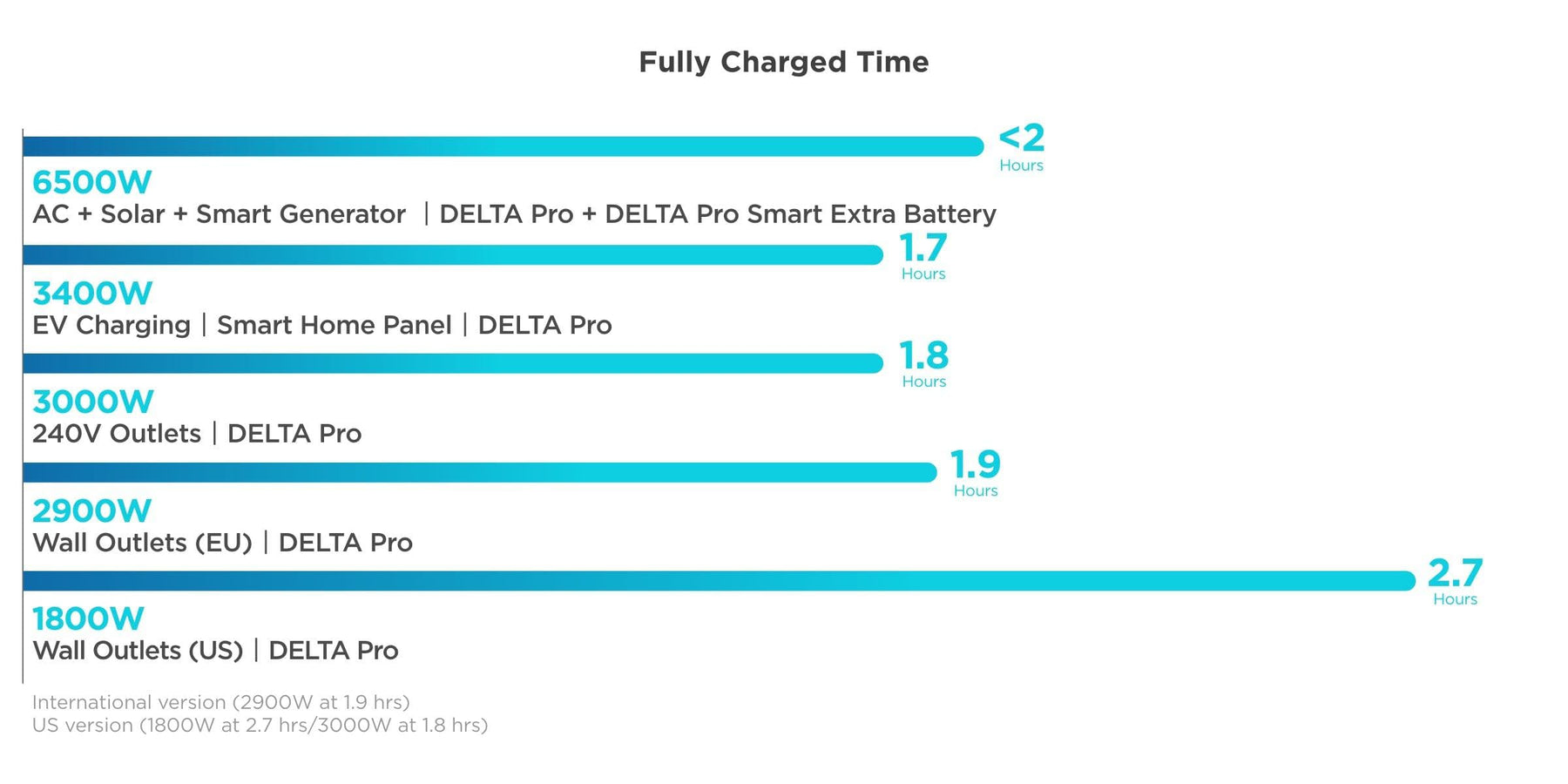 Charge up at thousands of EV stations worldwide.
For the first time ever with a portable power station, you can charge up at thousands of EV stations worldwide. This unique charging method gives you up to 3400W fast charging on the go.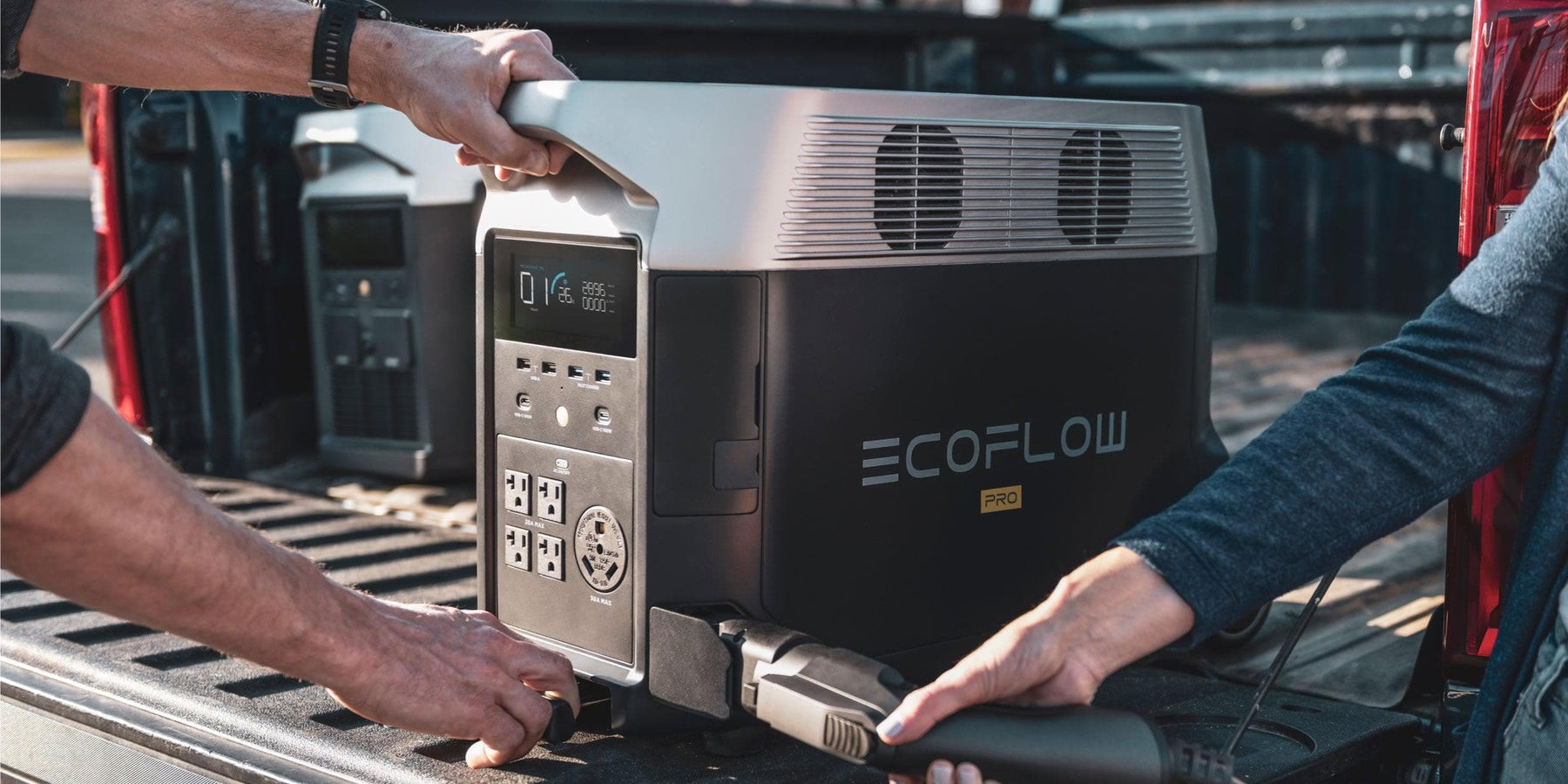 Go renewable with 1600W solar charging.
EcoFlow's suite of solar products give you a cost-effective renewable energy source to stay powered. You can use solar energy to charge DELTA Pro in just 2.8-5.6 hours. DELTA Pro has a wide voltage range from 11-150V, which makes it compatible with 90% of third-party solar panels with Solar connectors. And when the weather gets unpredictable, the smart maximum power point tracking (MPPT) automatically adjusts, maximizing your solar generation at any time of the day.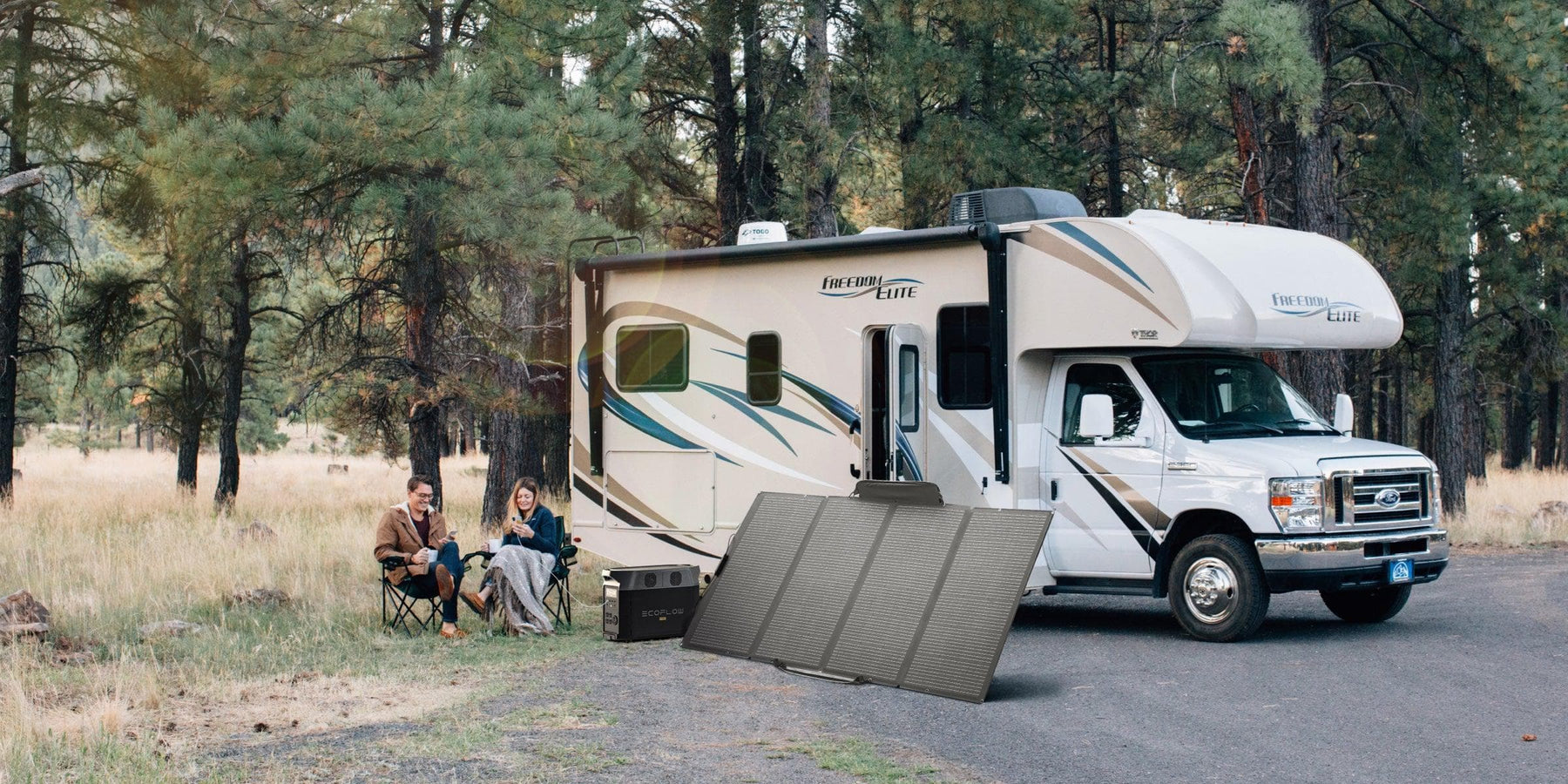 Get emergency backup power with the EcoFlow Smart Generator.
The EcoFlow Smart Generator serves as an emergency option that integrates with your DELTA Pro ecosystem. It auto-starts when your DELTA Pro hits a low level of charge, re-charges your DELTA Pro, and stops the engine all by itself once your DELTA Pro hits a full charge. Compared to a traditional gas generator, the EcoFlow Smart Generator delivers less energy loss, faster charging and higher efficiency.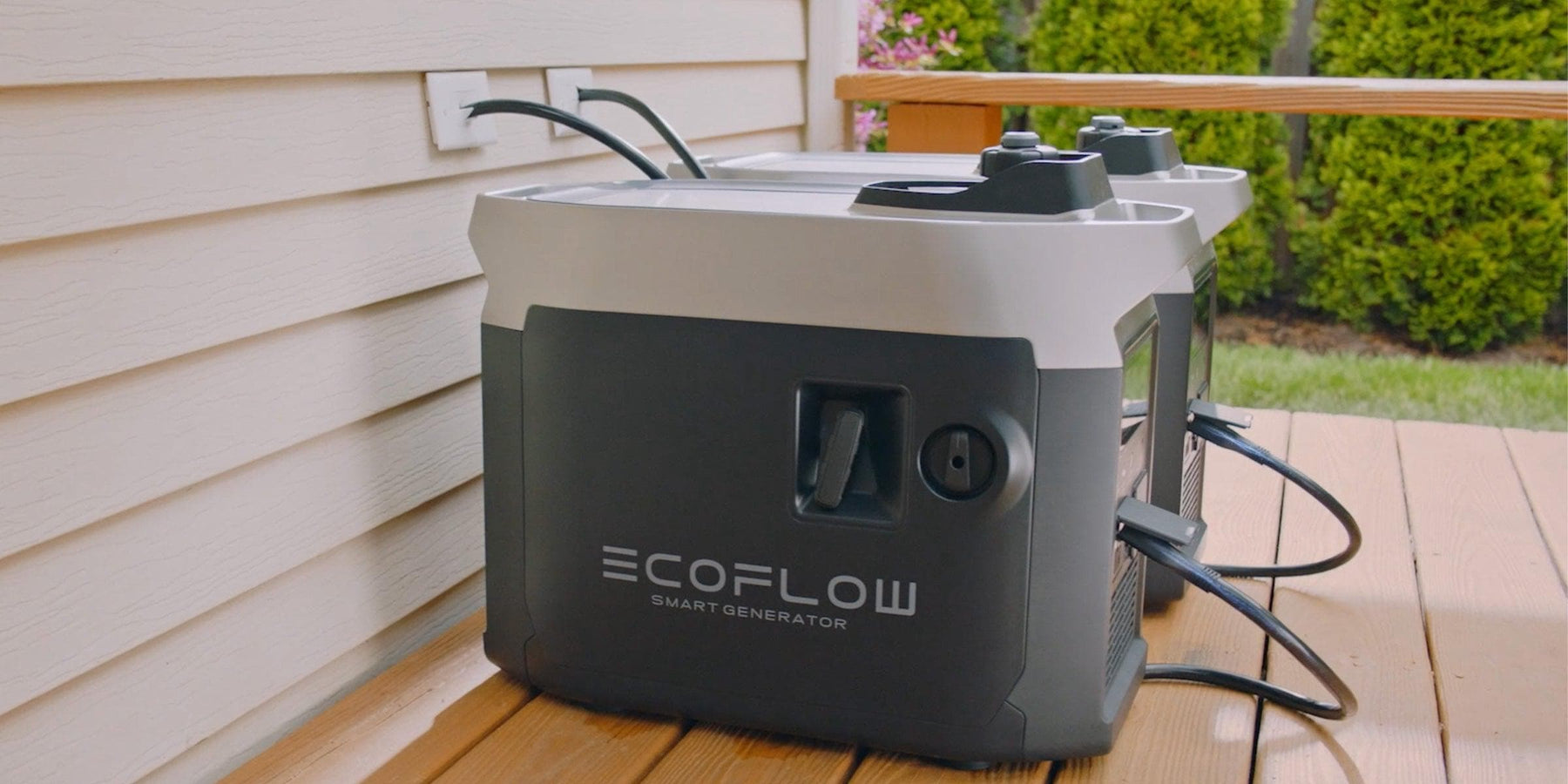 A battery that lasts for years on end.
DELTA Pro sports a brand-new LFP battery with 6500 cycles, which means you can use DELTA Pro for years and years before your unit reaches 50% of the original capacity. EcoFlow's battery management system provides real-time analysis and regulation of voltage, current, and temperature. This unique protection mechanism makes DELTA Pro an incredibly safe and efficient home battery.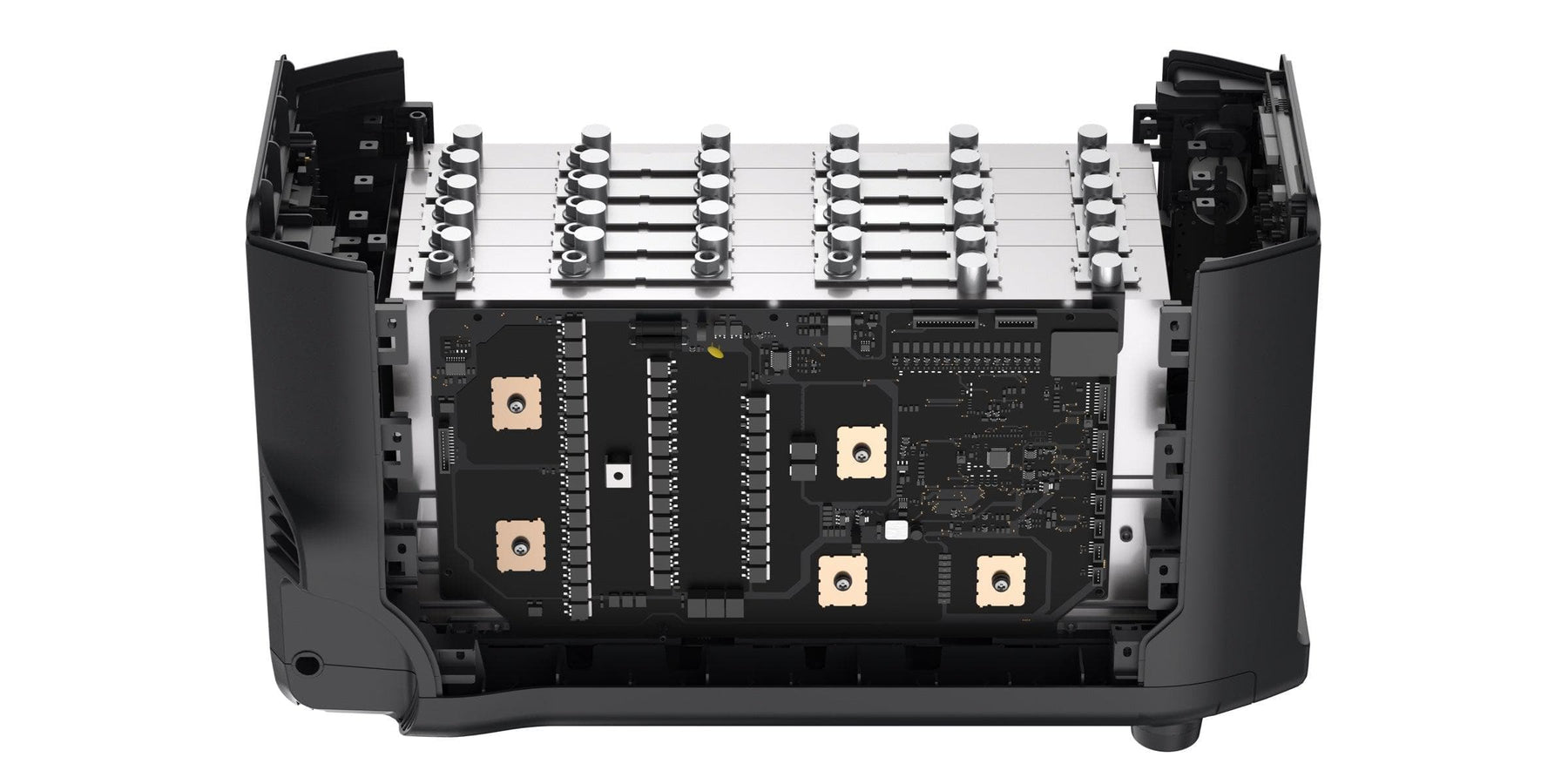 Multiple ways to control & monitor.
Control DELTA Pro either on the unit itself, using the remote control accessory, or unlock a ton of customization via the EcoFlow app. On the app, you can access your power settings, such as charging and discharging levels, AC charge speeds, control the Smart Generator and a whole lot more.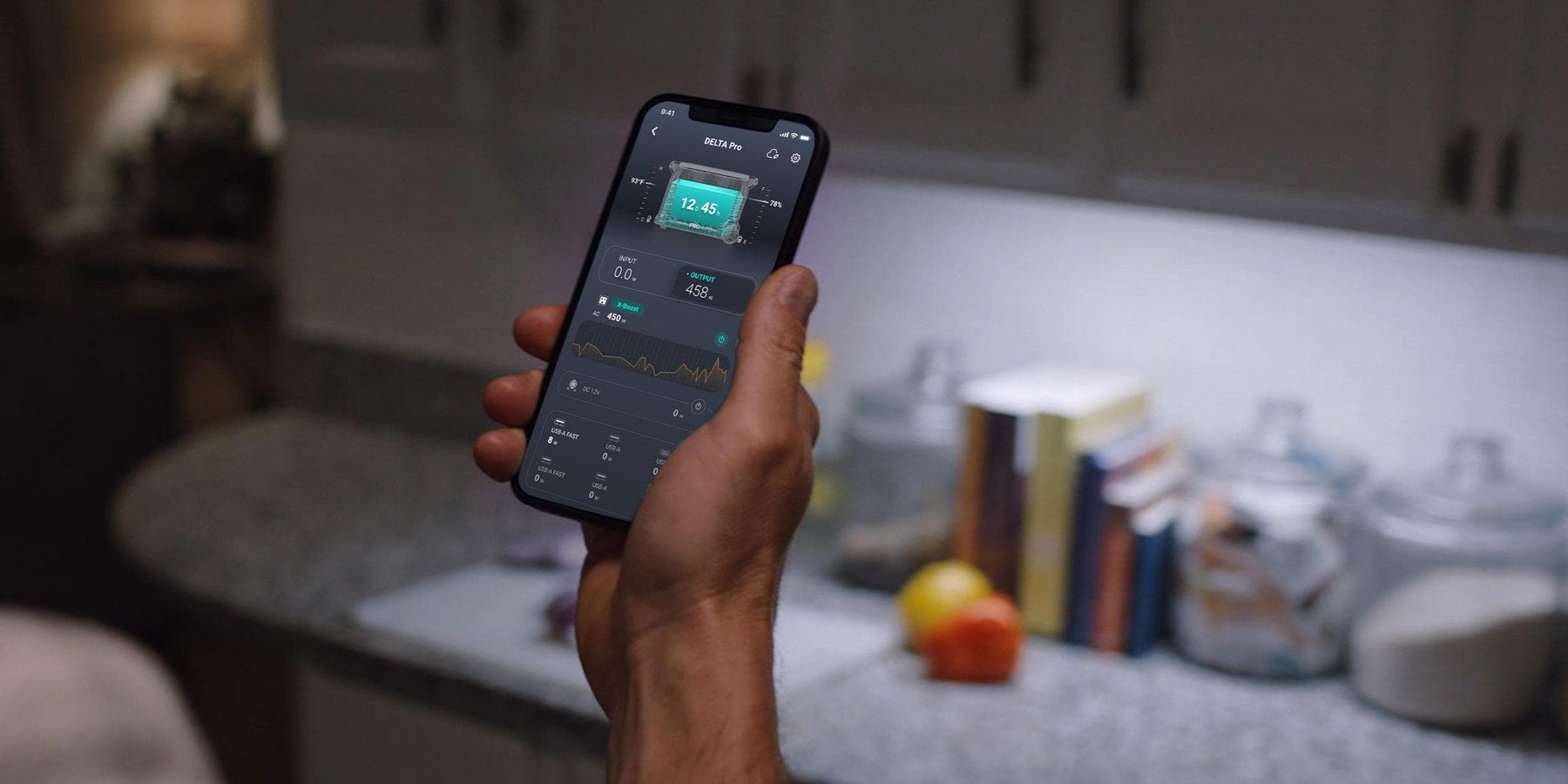 The world's first portable home battery ecosystem.
DELTA Pro's expandable ecosystem provides you with power during blackouts, customizable energy around the clock, and lower energy bills. How does it achieve all this? With a selection of extra batteries, smart generators, solar trackers, wind turbines, a smart home panel, and more. From backup power to reducing your reliance on the grid with green alternatives, the DELTA Pro ecosystem can be customized to your needs.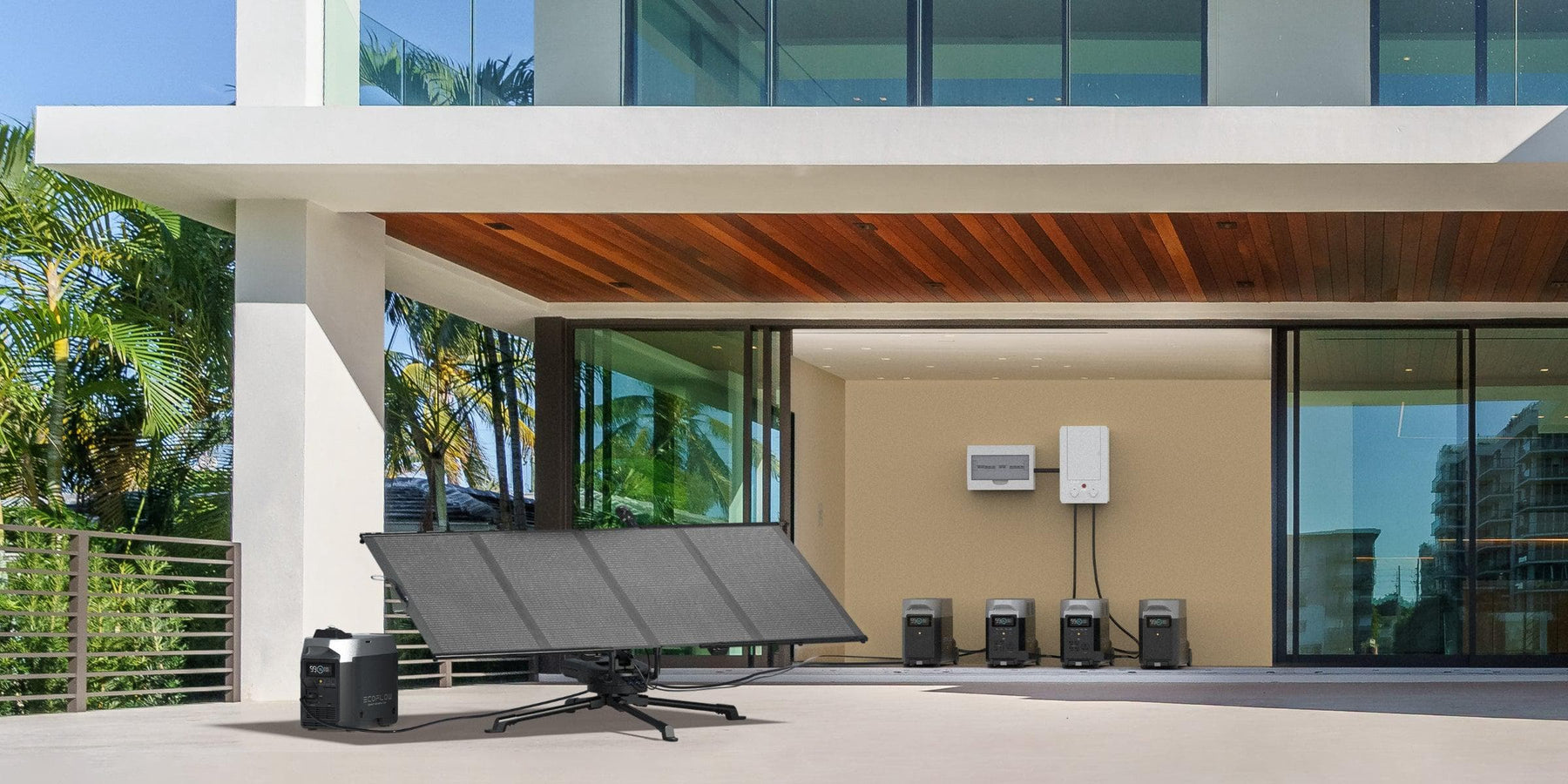 Introducing the EcoFlow Smart Home Panel.
The new EcoFlow Smart Home Panel is the heart of the DELTA Pro home battery ecosystem. It integrates up to two DELTA Pro units with 10 home circuits. Each DELTA Pro can be connected with extra batteries, solar panels, or smart generators, giving you uninterrupted power during blackouts, smart energy management for your critical loads, and lower energy bills.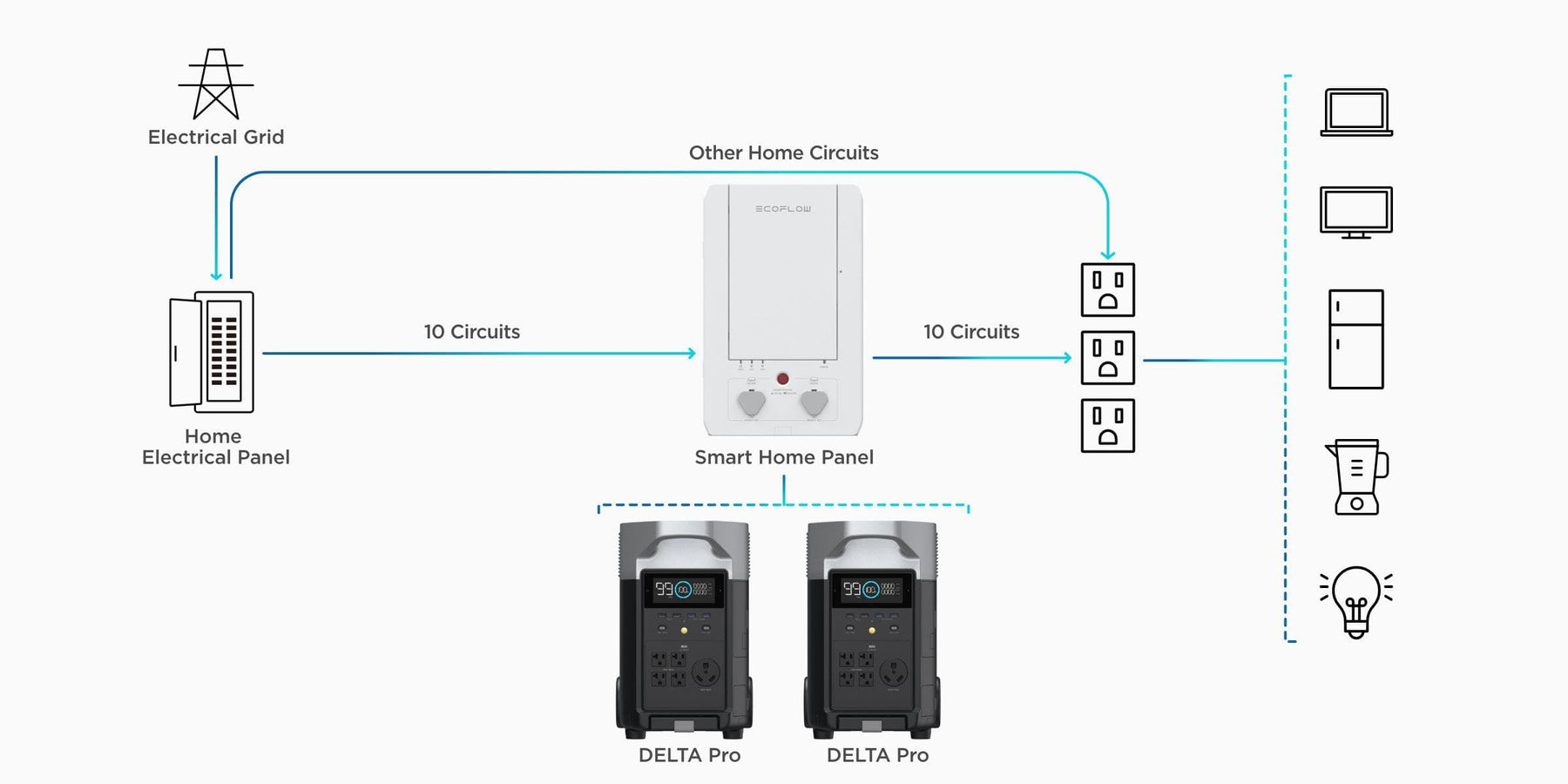 Uninterrupted home backup.
With a fast 20ms switchover time, DELTA Pro and the Smart Home Panel can keep you powered on during a blackout. All the while, the EcoFlow app keeps you in the know, letting you select and modify your device priorities.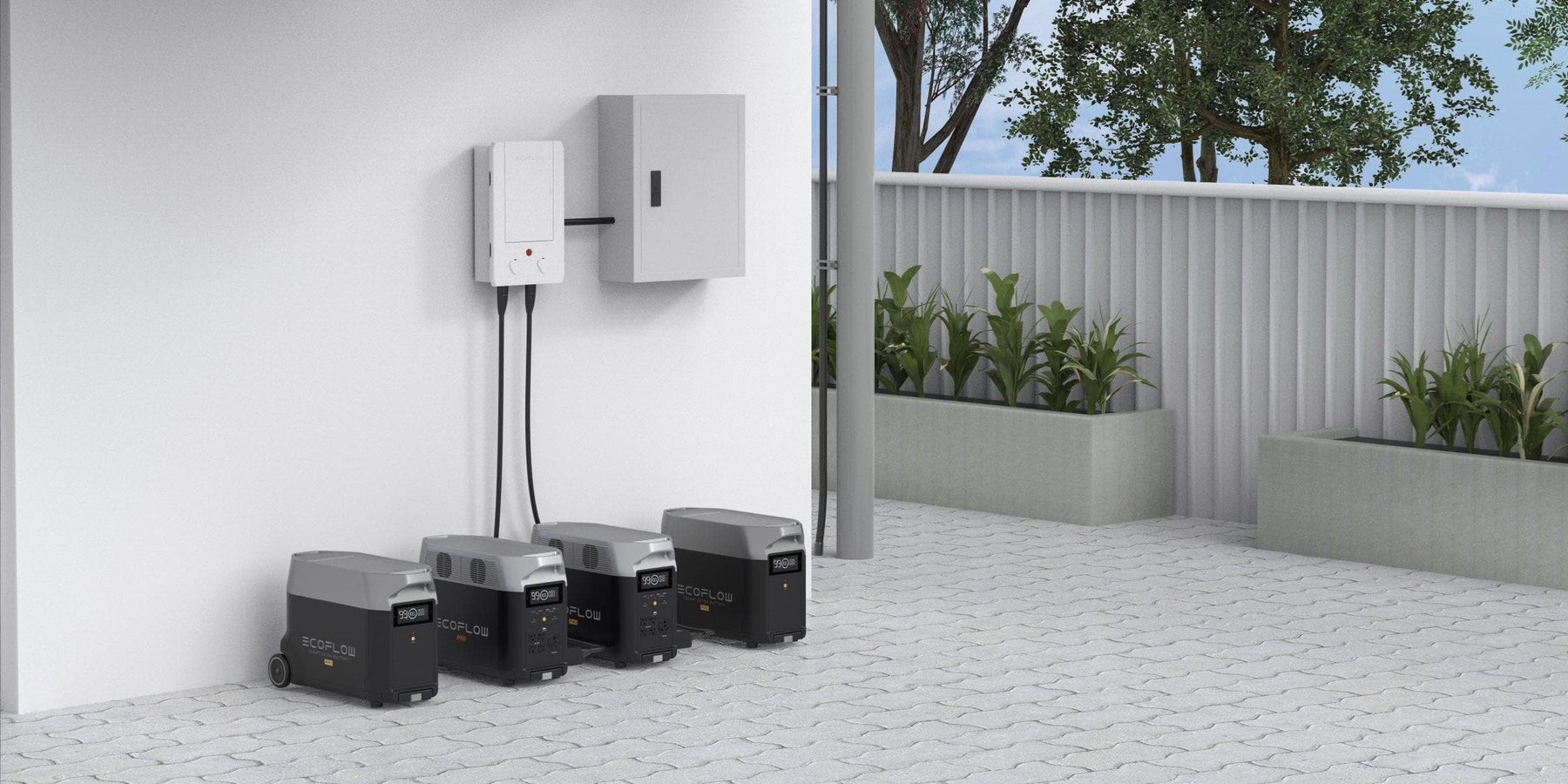 Smart Energy Management.
The EcoFlow DELTA Pro ecosystem stores energy day and night, reducing your reliance on the grid and lowering your energy bills by combating time-of-use rates. It integrates directly with your home using the EcoFlow Smart Home Panel. The EcoFlow app gives you a smart breakdown of your energy habits, and you can customize your energy usage for any type of situation.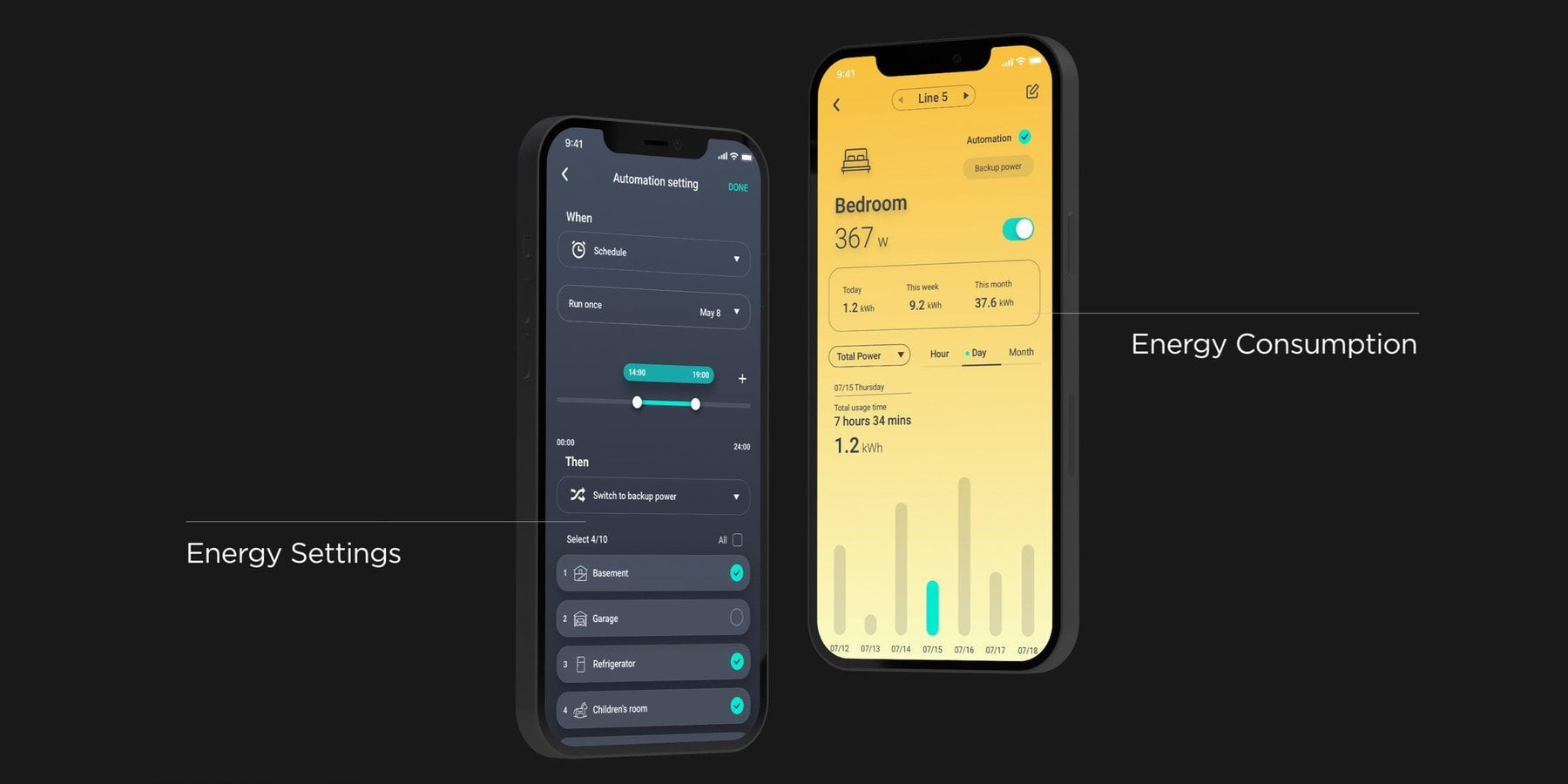 RV living made easy.
With DELTA Pro, you can take home with you, wherever you go. It features wheels and a suitcase-esque extendable handle that makes transport easy. And if you're looking for a complete power solution for RV road trips and outdoor adventures, DELTA Pro comes with dedicated 30A Anderson port and AC outlet.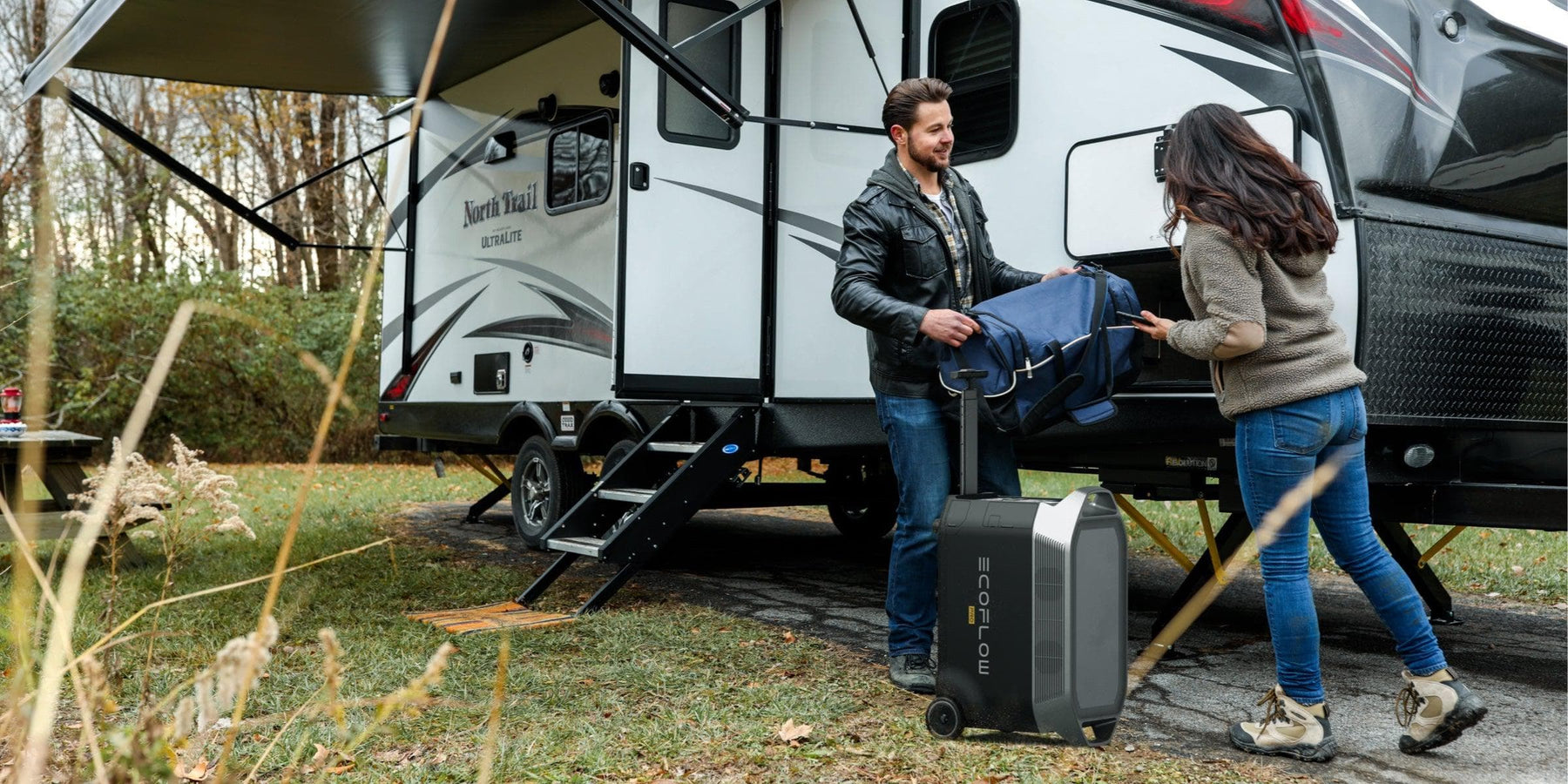 Power that means business.
Not only does DELTA Pro provide home backup and off-grid power, it also gives you a secure power source for any type of professional work. Whether you're working at home or outdoors, from DIY to professional projects, DELTA Pro helps you get the job done.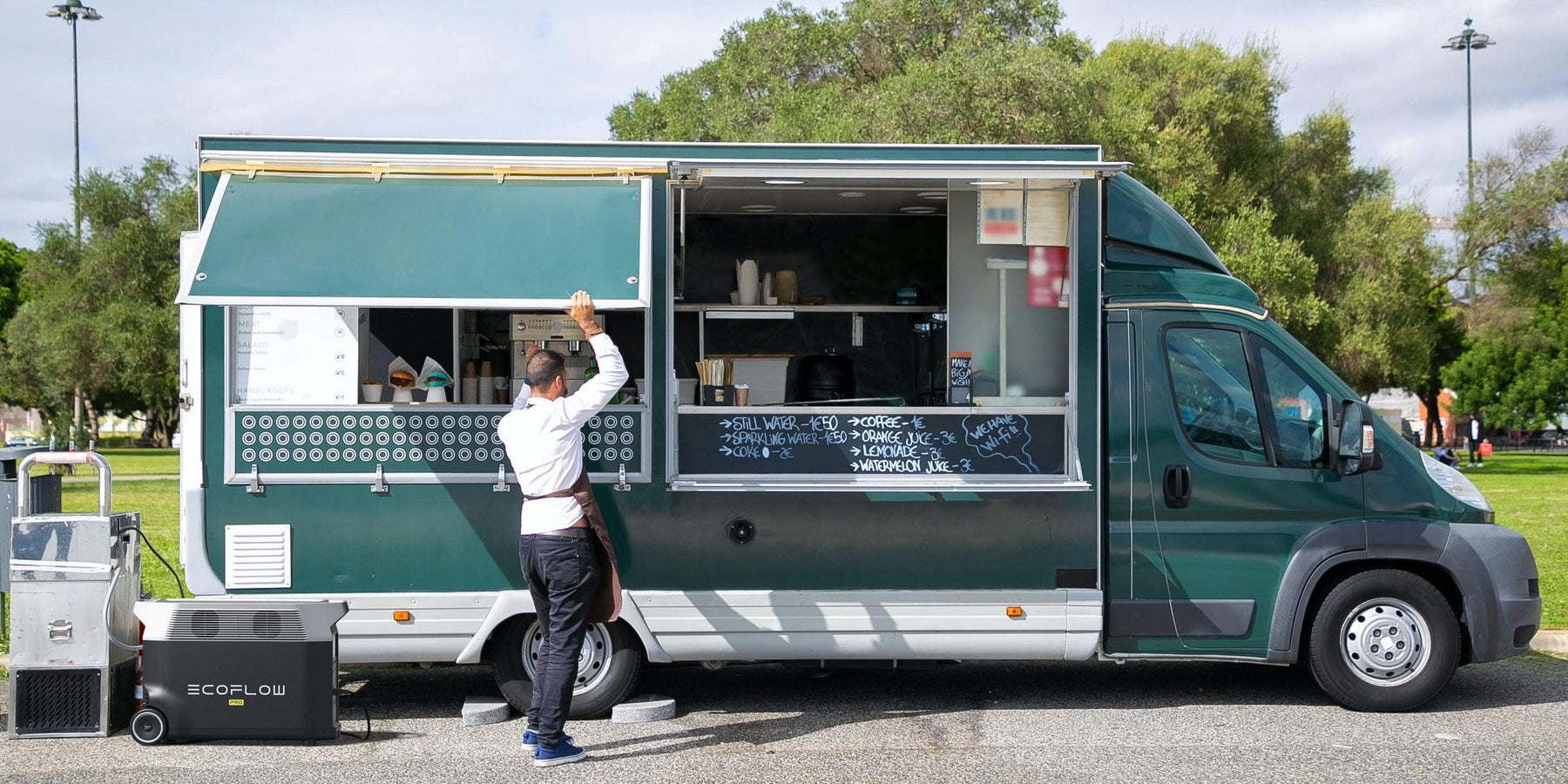 Shipping
Renewable Outdoors is offering FREE SHIPPING for a limited time on all orders delivered within the contiguous United States.
If your order is in stock and we process the charges to your credit card, our goal is to ship your order out within the timeframe specified on the product page. If we foresee potential delays beyond this shipping window, we will reach out to you directly to inform you. If for some reason you have not received your shipment within a reasonable timeframe or have not heard from us, feel free to reach out at mailto: sales@renewableoutdoors.com 
Why Buy From Us
Renewable Outdoors was created to become the number one destination for renewable energy and eco-friendly products. Renewable Outdoors is a place where you get the coolest products out there while also saving the planet. We only offer the best products that make a true impact on the world in the best way. We always strive to provide the best information, the best products, the best prices, the best customer service, and the best overall buying experience anywhere. This is why Renewable Outdoors is the #1 store for renewable energy, camping gear, off grid supplies, and more! 
WE PUT OUR CUSTOMERS FIRST
We're a small team and truly care about your experience with us. Unlike the other "internet" companies out there that want just a simple transaction, we are here to help you every step of the way. Aside from the information we provide on our website, we also have a customer service team readily available via email or phone to help answer any questions you have at any time. 
WE LOVE SAVING THE PLANET AND THE OUTDOORS AS MUCH AS YOU DO
When you call us, you get an expert in the renewable and outdoor industry on the other line. A large part of our team is from the mountains of Colorado where renewable energy and outdoors are second nature. Whether you are looking for solar generators, EV chargers, or anything else, we truly invest ourselves in understanding our products.
WE ARE THE EXPERTS IN THE INDUSTRY
By working closely with a large number of the best brands in the renewable energy and outdoors industry. We are given a unique insight that you cannot find anywhere else. Our owners have taken the time to carefully select only the best brands with track records for excellent products. To put it simply, you just will not find this level of expertise anywhere else. We want to get to know the products we sell on a deep level so that we can best serve you.
More Reasons to Love Renewable Outdoors:
Price Match Guarantee

Thanks to our strategic partnerships with our brands, we are able to offer the best prices you can find anywhere or we refund the difference.

Free Shipping

All orders shipped to the lower 48 U.S. states ship FREE. 

If you wish to ship to Alaska, Hawaii, or Canada give us a call or shoot us an email and we can help with that as well.

100% Safe & Secure Ordering

Our website uses SSL Encryption technology ensuring all sensitive payment or personal information submitted through the website is completely secure and protected.

McAfee Shopping Guarantee

Includes $10,000 ID Theft Protection Coverage, $1,000 Purchase Guarantee, and $100 Lowest Price Guarantee all FREE of charge when you order with us.

Volume Discounts

 If you are looking to buy a large quantity of one item, we may be able to offer special pricing. Feel free to send an email to

 sales@renewableoutdoors.com

 

for a quote.


We Are An Authorized Dealer

Renewable Outdoors is an authorized dealer for all of the brands on our website. This means we are able to offer full manufacturer warranties on every order.
This is why Renewable Outdoors is the #1 Source for your ultimate renewable energy and outdoors experience!
Shipping and Returns Policy
Free Shipping Promotion:
Shipping costs for our business are typically around $15 for accessories can range and up to $500 for larger items.  However, for a limited time only, we are offering free shipping on all products to the lower 48 states in the U.S.. No minimum order required!
If you would like an order shipped to anywhere else in the world, please email us at sales@renewableoutdoors.com and we will gladly work something out with you!
Renewable Outdoors reserves the right to cancel this offer at anytime
Order Confirmation:
After you place your order, you will receive a confirmation email.  This means that we have received your order in our system.  As soon as we receive your order, we automatically reach out to our suppliers to confirm that it is in stock and ready for shipment. 
If your item happens to be on backorder, or is otherwise unavailable, we will let you know via email.  Once your item(s) are available for immediate shipment, we will ship the order.
Order Shipment:
Your order will ship within the lead time we have posted on the product page.  We will email you tracking information within 24 hours of your order leaving the warehouse. 
If you do not receive tracking information from us by 3 days after the lead time posed on the product page has elapsed, feel free to follow up with us at sales@renewableoutdoors.com
Most orders will be shipped by FedEx or UPS. Small items may be delivered by the US Postal Service or by the US Postal Service via FedEx Smartpost or UPS Surepost.
Larger items may be delivered via FedEx Ground, FedEx Home Delivery, UPS Ground, or Truck Freight. Some special orders may require 2 to 6 weeks depending on the item.
Some large or heavy items require additional shipping and handling charges due to the bulky nature of these products.
If an item requires additional shipping and handling charges we will clearly mark this requirement on our website and in our catalog. In most cases, we charge a "flat" rate to ship these items.
Canadian Orders: We do not ship directly to Canada, however, we will ship to a US-based freight forwarder of your choice! We recommend you first contact the desired freight forwarder to obtain their shipping and receiving processes.
You will be responsible for all duties and tariffs on Canadian shipments, along with coordinating with the freight forwarder for delivery to final destination. Please call 303-876-7654 for assistance, otherwise enter the shipping address provided by your US-based freight forwarder.
Damages:
ALL SHIPMENT SHOULD BE INSPECTED AT THE TIME OF DELIVERY. DAMAGED PACKAGES SHOULD BE REFUSED. If you notice any damage, you should note it on the freight bill when signing for delivery. 
If your product is defective or sustains damage during shipping, please contact us at sales@renewableoutdoors.com right away. Remember to keep all the original packaging for any items that need to be returned. All returns need to be authorized by our customer service department prior to being processed.
If delivered by Truck Freight, please contact the freight carrier at the phone number on the carrier's bill. After contacting the carrier, please call Renewable Outdoors  Customer Service at 303-876-7654 for further assistance with the damaged shipment.
Please note, signing for your delivery without noting any damages or inability to inspect the delivery on the relevant paperwork legally states that you have received your freight in good condition and Renewable Outdoors cannot be held liable for any damages, missing pieces, etc. that may be incurred as a result of this decision.
Leaving a note or instructions for the driver is considered to be the same as signing for your products in good condition.
If you authorize the freight company to leave freight without a signature, Renewable Outdoors cannot be held liable for any damages, missing pieces, etc. that may be incurred as a result of this decision.
If you choose to sign for a visibly damaged please note on the relevant paperwork that you are signing for a damaged package; however, Renewable Outdoors cannot be held liable for any damages or missing pieces for accepted via signature delivery.
Cancellations & Refunds:
To cancel an order, reply to the confirmation email you received when you placed your order online. Just tell us why you need to cancel and we will process it as soon as we can. 
All orders canceled after 48 hours could be subject to a $50 administration fee, regardless of whether your order has shipped.  Refunds will be issued to the credit card that you used when placing your order.
How do I return a product?
If you want to return an item, please send an email to sales@renewableoutdoors.com
Returns will only be accepted within 30 days of the receipt of your product.  The product must be returned unopened in the original packaging.
We do not accept returns of used products.  You should also provide us with a receipt of your purchase and a reason for returning the item.
Please note that you cannot return an item without a valid return authorization number.  
Upon receiving and inspecting the returned product, Renewable Outdoors will issue a refund for the full amount minus restocking/administration fees to the credit card used for the purchase only.
If you attempt to send the item back without a return authorization number, it will be refused, and you will be charged the return shipping costs.  Customers could be responsible for paying all shipping and handling costs for returning an item.
FAQs
Which payment methods do you accept?
Credit/Debit Cards (American Express, MasterCard, Visa, and Discover)

PayPal

Google Pay
What is your return policy?
Please see our We Accept Returns page for more information.
What is your cancellation policy?
All orders canceled after 48 hours are subject to a $20 administration fee, whether or not your order has shipped.  If you order has shipped, you (the buyer) will also be responsible for actual return shipping charges as described on the Free Shipping & Easy Returns page. Refunds will only be issued to the original credit card that you use when placing your order.
What if my product is damaged?
Please inspect the packaging of your item(s) when they arrive, if you notice any damage you should make note of it when signing for delivery.  If your item(s) do arrive damaged, please send photos to sales@renewableoutdoors.com and we will process an insurance claim on your behalf.
How do I place an order?
First, locate the product you would like to purchase and choose the quantity in the selection box. Next, click on the "Add to Cart" button. All of your products will be added to your cart.
You will find your cart at the "My Cart" button located at the upper right-hand side of the website. When you are prepared to complete your purchase, ensure your cart is correct and press "Checkout".
Enter your shipping/billing and credit card information and follow the instructions on the checkout page. Once your order has been placed, you will receive a confirmation email from us with the details of your order.
If you would like to place an order by phone, give us a call at 1-844-345-2677.
How will my order be fulfilled?
As soon as you place your order, you will receive an order confirmation e-mail.  This means that we have received your order in our system and pre-authorized your credit card for the purchase.  As soon as we receive your order, we automatically reach out to our suppliers to confirm that it is in stock and available for immediate shipment.  If your item is on backorder or unavailable, we will void the pre-authorization and reach out to you via e-mail.  If your item(s) are available for immediate shipment (within 5 business days), we will process the charges and submit the order for shipment.
Will you send an order confirmation via e-mail?
An order confirmation message will be sent to the e-mail address you provide us for each order you submit. We recommend that you print and save the e-mail confirmation for your records. Please be sure to enter your e-mail address correctly to ensure that you receive your order confirmation.
How can I change My Account information?
You can change your contact information at any time by signing into "My Account" and editing the information. Save the changes and your account will be updated.
Do you charge sales tax?
Only customers residing in the state of Colorado will be charged sales tax. Orders from outside Colorado will not be charged sales tax.
How can I make a change or cancel my order?
Once an order has been placed, you cannot change or cancel your order online. To request a change or cancellation of an order, please contact us at (our email)
How long will it take for my order to ship?
This will vary by product and vendor so check the product pages for accurate estimates. You can be safe to assume that if your order is in stock and we process the charges to your credit card it will ship within 3 business days from the date of your order. If you have not received your shipment within this time or would like any information on the status of your shipment, contact us at sales@renewableoutdoors.com.
Can you ship to a P.O. Box or an APO Address?
At this time, we are unable to ship to P.O. Boxes, due to the size of our products, as well as APO addresses.  We apologize for the inconvenience.
Didn't find what you were looking for?
We would be glad to assist you. Visit us at our contact us page or fill in the form below.